Documentation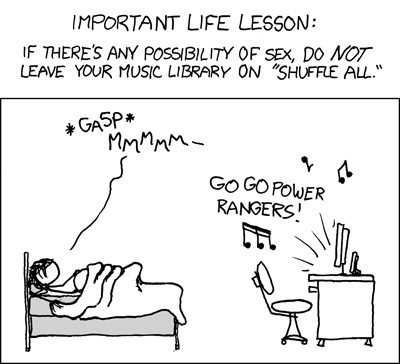 work licensed under a Creative Commons Attribution Non Commercial 2.5 License.
© copyright Randall Munroe
MPD_sima
The current stable branch is 0.12.
Next major version, 0.13.0, released when ready, "Pauca, sed matura…".
[NEWS] Follow news and release announcement on the News page. (rss & atom feeds available).
[TRACKER] Check for opened bugs or feature requests.
[DOCUMENTATION] Official manuals pages exported as html.
Download / Packages
MPD_sima is currently packaged for Download two different linux distro.
Donate
I'll be very pleased if you pick up anything from my amazon wishlist ;).
Donate using paypal
You might use Flattr as well
Donations will be equally shared between the forge and MPD_sima devs.
Features
Queue similar artists or top tracks for similar artists.
Queue whole albums (MPD_sima >= 0.7).
May run as a daemon, system wide, or within regular user account (MPD_sima >= 0.8).
Preferably plays non-recently artists.
Black list to prevent from queuing a track, a whole album or an artist (MPD_sima >= 0.7).
Perform fuzzy match against MPD media library, ie. looking for "The Beatles" should match "Beatles" (MPD_sima >= 0.6).
Caching audioscrobbler request.
MPD connection with authentication. Support environment variables MPD_HOST and MPD_PORT.
Python is IPv6 ready, so is MPD_sima
Need more features, got an Idea?
Please drop a line on the wiki or post a new ticket on the tracker :)
Requirements
Needed requirements for MPD_sima.
[0] MPD >= 0.14
[1] python >= 2.6 and < 3
[2] python library: python-mpd >= 0.3.0
Web access (last.fm request done over http)
Description
MPD_sima is a python script meant to deal with your <acronym title="music player daemon">MPD</acronym> server [0], automagically adding title to your playlist following different policies.
Remember that a good tagging policy is a prerequisite for a MPD_sima to satisfy you. It allows the script to know what your listening to!!
This a pure console tool I wrote, trying to keep in mind the unix/kiss philosophy.
Meaning, mpd_sima will only try to add tracks to your playlist, anything else should not be included or requested.
MPD_sima is looking for the availability of these suggestions in your MPD media database and randomly selects some titles to add the playlist.
TAKE NOTICE
Running MPD_sima with last.fm suggestions you have to be aware that the larger is your music library the better MPD_sima will behave. It also depends on what kind of music you have on your computer.
But most of all,MPD_sima heavily rests on sound file tags. So, please, tag properly your music files!
You cannot expect MPD_sima to guess the name of the artist your listening to. Then I'm aware the same artist is spelled differently for different people and for last.fm as well. That's why I added a fuzzy search to smooth it away (with a levenshtein distance).
Nevertheless a good tagging policy is a prerequisite for a MPD_sima to satisfy you.
Official manuals
Official manuals are distributed with the source as docbook and already processed as html and roff pages. You can also consult them on line.
Usage
MPD_sima has been written for python >= 2.6, < 3.0, your welcome to send feedback ;)
Simply run the shell script "launch.sh" or python script "mpd_sima.py".
The python script accepts some CLI options (cf. --help for details or manuals):
/usr/bin/env python ./src/mpd_sima.py --daemon --pid=/path/to/pid_file.pid --log=/path/ot/log_file.log

If you need special settings to access to your MPD server, edit configuration file located at $XDG_CONFIG_HOME/mpd_sima/, usually "$HOME/.config/mpd_sima/".
An exemple is provided in the tarball doc/examples/mpd_sima.cfg. The defaults are an MPD server on localhost:6600 with no password or retrieve from MPD environment variables MPD_HOST and MPD_PORT is you set them up (cf man 1 mpc for more info on MPD env. variables).
For advanced use refer to dedicated page AdvancedUse.
Devel
Please refer to devel pages.
Similar projects/code, fair competition is good :)
Check the similar projects, add yours
They wrote about us
Links
[0]
mpd.wikia.com
[1]
Python programing language
[2]
musicbrainz.org
[3]
Python MPD